I'm all about shortcuts, but sometimes we need to prep our materials properly. The process below took approximately 30 minutes.
Before we dive into this tutorial, you need to know that these are sealed for indoor use only. The seal is water soluble and would not hold up outside.
Wooden mosaic bases can soak up your glue during the drying process and increase the chances of your glass falling off in the future if not sealed.
Materials Needed:
Weldbond Adhesive
Water (from faucet is just fine)
Shot Glass (I know what you're thinking)
Wide Mouthed Empty "pill bottle" with Lid
Silicone Spatula
Silicone Mat
Foam Sponge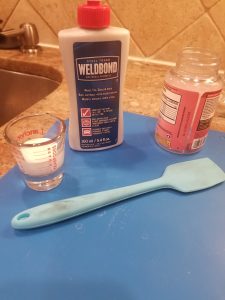 The wash is made from equal parts Weldbond and water. For this particular batch, I used 3 ounces of each and measured them using my shot glass.
You measure and pour both into the pill bottle. The silicone spatula is used to scrap the glue out of the shot glass ensuring we get every last drop.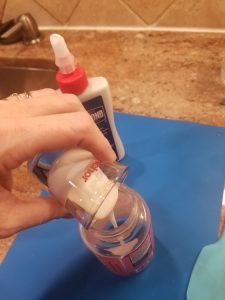 Once both are poured into the bottle, you place the lid on and Shake Whatcha Ya Mama Gave Ya!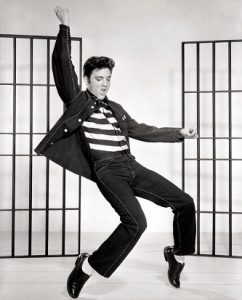 Pour some of the wash onto the foam sponge so it can be absorbed.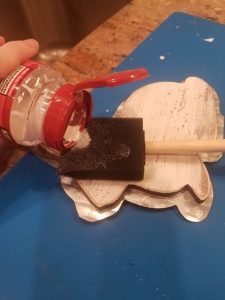 Paint the wash liberally over the areas you want to seal. The wood is quick to absorb the wash and leaves a milky look on it. Let the pieces dry for at least 24 hours. I usually leave them longer because I'm getting the prep work out of the way for future projects.
Put a check mark on the bottom of the dry ones with pencil. This tells you which ones have been sealed in case they get mixed in with others.
I'll seal a few at a time after I buy/make them. This way my stock will be ready when the inspiration hits me. The six ounce wash sealed all of these.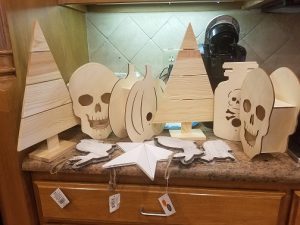 You can follow me as I create these pieces on social media. I can be found under "AwesomelyTraci" on all social sites and be sure to "like" the pages as well if this has brought any value to you.